High-Quality Pet Care that Helps Your Community
For more than 150 years, Oregon Humane Society has been on a mission to serve this community and create a More Humane Society for pets and the people who love them.
It is our belief that everyone should be treated with dignity and compassion in a judgment-free environment. Every time you visit our Community Veterinary Hospital, your pet will receive the highest quality care — and you will support our vision of making veterinary services accessible to those in our community who need them most.
We are passionate about keeping your pets happy, active, and healthy.
Schedule Your Pet's Care Consultation Today
At our state-of-the-art Community Veterinary Hospital, we use advanced medical technology and therapies to diagnose and treat your pet.
Through diagnostic consultations, our skilled team is dedicated to understanding each pet's unique circumstances to provide the highest quality care. Additional treatment may require added fees, which will be discussed during the exam.
A deposit for the consultation fee is required at the time of appointment booking.
Preventative Care Consultation: $65
Dental Consultation: $65
Sick Pet Consultation: $85
Urgent Care Consultation: $110
Need to cancel? Let us know by calling (503) 802-6800 at least 24 hours ahead of your appointment to avoid forfeiture of your deposit.
Financial Assistance Available
We are dedicated to offering accessible veterinary care to you and your pets.
Find out how you can qualify and apply for financial assistance at our Community Veterinary Hospital.
Support Access to Veterinary Care
Paw It Forward and help Oregon Humane Society provide affordable veterinary services to those in our community who need them most.
Your contribution will support subsidized care and high-quality medical services — ensuring pet owners can afford services to help keep pets safe and healthy in their own homes.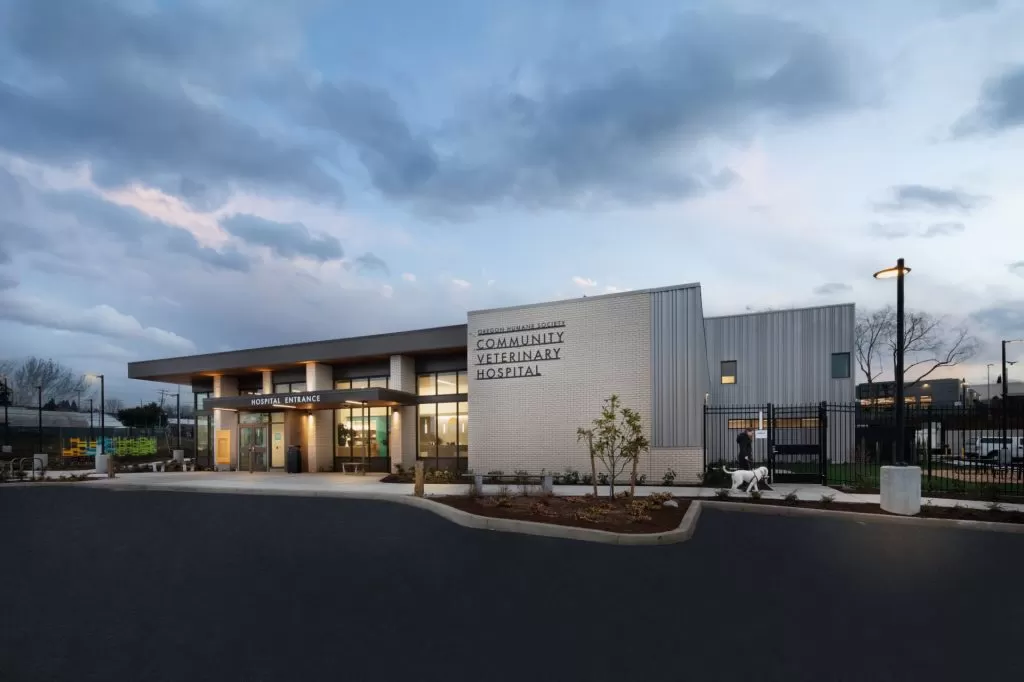 Community Veterinary Hospital
Visit Us
Sunday–Thursday, 7:30 a.m.–5:30 p.m.
7865 NE 14th Pl., Portland, OR 97211
Contact Us
(503) 802-6800
Fax: (503) 802-8052
You might also be interested in