How to Qualify
If you currently meet one of the following criteria, you may qualify for reduced fees on veterinary services at our Community Veterinary Hospital.
Employment Related Day Care (ERDC)
Food Distribution Program on Indian Reservations (FDPIR)
Housing Choice Vouchers (Section 8)
Oregon Health Plan (OHP)
Social Security Disability Insurance (SSDI)
Supplemental Nutrition Assistance Program (SNAP)
Supplemental Security Income (SSI)
Temporary Assistance for Needy Families (TANF)
Women, Infant, Children (WIC)
| | | |
| --- | --- | --- |
| Number of Individuals in Household | Gross Annual Income (less than or equal to) | Monthly Income (less than or equal to) |
| 1 | $43,100 | $3,591 |
| 2 | $49,225 | $4,102 |
| 3 | $55,400 | $4,616 |
| 4 | $61,525 | $5,127 |
| 5 | $66,475 | $5,539 |
| 6 | $71,375 | $5,947 |
| 7 | $76,325 | $6,360 |
| 8 | $81,286 | $6,774 |
For more than 8 persons, add $4,540 for each additional person.
There are other ways in which you may qualify for discounts on veterinary services. Please note that these discounts cannot be combined with any other reduced fees.
Animal Industry Partner: 15% discount
Military Veteran: 15% discount
Age 65+: 10% discount
Student (18+): 10% discount
How to Apply
Once you have scheduled an appointment for your pet, you will be sent a confirmation email with a link to the financial assistance application.
Your appointment confirmation email will contain a link to the financial assistance application. This form will only need to be filled out once.
During your first visit at the Community Veterinary Hospital, you will be asked to show proof that you meet the required income limits for reduced fees. Depending on what level you are applying for, you may be asked to show:
A government assistance card
Your most recent tax return
The last two pay stubs for each person contributing to the total income of your family household
Once you have shown proof of need, you will not need to show proof again for one year. To continue to receive financial support, you will need to show proof of need on an annual basis.
FAQs
We encourage you to schedule an appointment so that we may examine the needs of your pet and submit an application to request financial assistance. At the Community Veterinary Hospital, we work with each client's individual needs.
Every patient's needs are unique and may require different treatments. After your pet is examined by one of our veterinarians, you will receive an estimate on the cost of the suggested treatment plan. The estimate will include any discounts for which you may be eligible.
When you schedule your appointment, we will confirm the cost of the exam. Exam price is dependent on the nature of the exam and may vary. For example: wellness visit and urgent care visit exams vary in length and staffing needs, resulting in different prices.
Some medications and cremation services may not be eligible for discounts. Any items that may not be eligible for discounts will be discussed with you when you receive your pet's suggested treatment plan.
One of our veterinarians must examine your pet prior to receiving a treatment plan. A determination for discount eligibility will also be established at the time of the doctor's assessment.
There are no limits on the number of pets you can bring in for care, or the number of times you can receive financial assistance in a calendar year.
We currently accept Care Credit, Scratchpay, and work with many pet insurance providers.
Yes, a deposit for the consultation fee is still required at the time of appointment booking.
Discounts on the consultation fee will be applied when you arrive your visit and the deposit made will go towards the discounted consultation fee. Any remaining deposit will be applied towards the cost of additional treatments (if applicable).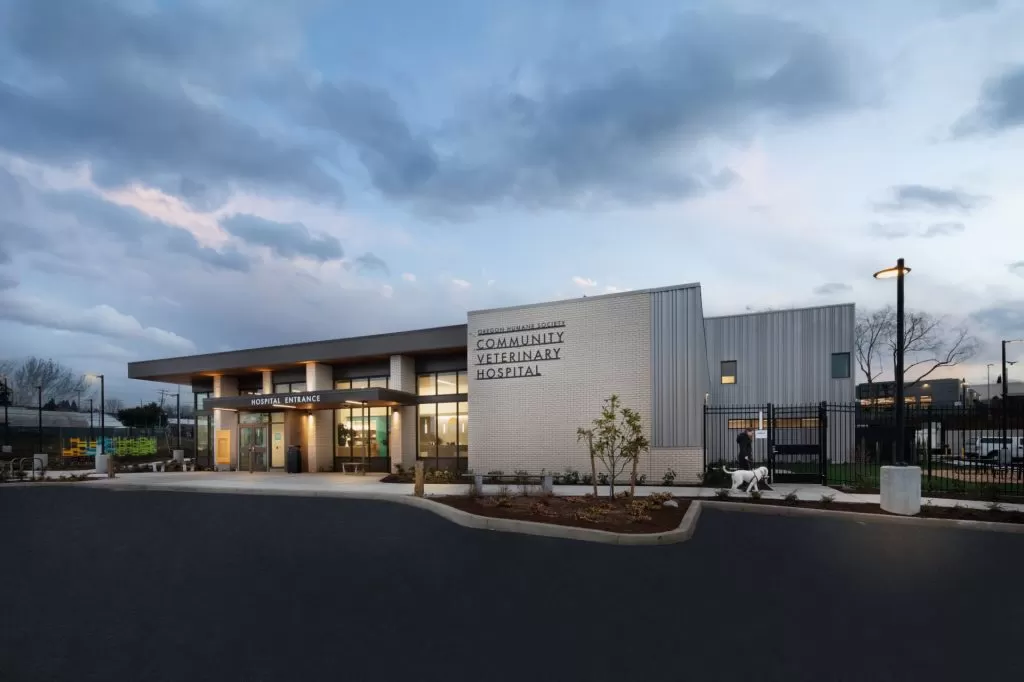 Community Veterinary Hospital
Visit Us
Sunday–Thursday, 7:30 a.m.–5:30 p.m.
7865 NE 14th Pl., Portland, OR 97211
Contact Us
(503) 802-6800
You might also be interested in