Portland Campus Trainers
Abby Karth, CPDT-KA
Abby, CPDT-KA, has experience training dogs, both for clients as well as in shelters. She has worked in day cares and boarding facilities before coming to OHS.
She is a native Oregonian and shares her home with a poodle mix dog and a calico cat. She loves to garden and do various crafts.
Courtney Bayer, CPDT-KA
Courtney Bayer, CPDT-KA, is a CCS-Pro graduate from Northwest School of Canine Studies in Seattle and a member of the Association of Professional Dog Trainers. Courtney has over a decade of experience working with animal rescue organizations and shelters in the D.C. area and in New Orleans, where she focused on the rehabilitation of fearful and reactive dogs and taught classes on basic manners, agility, and puppy socialization. Her passion is coaching adolescent dogs and their owners, showing them that a training lifestyle can and should be lots of fun!

In her free time, Courtney likes to take her Boxer mix, Fiona, on long "sniffaris," road trips, and to trick training or nose work classes. When Fiona wants a day off, Courtney and her husband enjoy baseball games, brew pubs and talking about having a cat again someday!
Jennifer Shirley, CPDT-KA
Jennifer Shirley, CPDT-KA, joined the Oregon Humane Society's Training and Behavior Department in 2007. Prior to that, she was a volunteer and joined OHSTAR (Oregon Humane Society Technical Animal Rescue) after her life-altering experience in New Orleans post hurricane Katrina (and during hurricane Rita).
She usually has a newly-arrived, terrified Chihuahua or Terrier with her at her desk and does her best to help Behavior Helpline callers resolve their animals' issues.
She shares her home with her husband, Bruce, and their Shiba Inu/Husky mix Emi, an alumna from OHS.
Jenn Fiendish, VTS(B), CPDT-KA
Jenn Fiendish, CVT, VTS (Behavior), CPDT-KA, CTDI, FFCP-E, FFCT has been in the animal care profession for 30 years, with the past 12 focusing on animal behavior and training. She is the owner of Happy Power Behavior and Training in Portland, OR. In addition to her work here at OHS, she also helps with patient care and management at Synergy Veterinary Behavior.
In her free time, Jenn enjoys equestrian sports, reading, and is an avid crocheter. She shares her home with hairless dogs, geese, a snake, and one very patient husband.
Nick Tahran
Nick Tahran teaches classes with his wife, Paulina. They've been involved in OHS for several years as dog walkers, foster parents, Dog Trainer Prep students, and now instructors themselves! They enjoy sharing what they've learned with their enthusiastic students. Nick believes dog training is largely physical, like learning to play a sport or musical instrument, so they teach dynamic classes with plenty of time for students to practice and learn by doing.
Before working with OHS Nick taught English in Europe for several years, and this experience taught him empathy for the dogs in his classes who are learning to live in a foreign environment. He's also sympathetic to the students, having owned several dogs and taken many dog training classes. Nick and Paulina try to keep classes fun while providing practical tools and advice that students can use outside the classroom. He says that he is continually amazed by the passion and dedication that students have for their dogs, and it's incredibly rewarding to share and support their passion.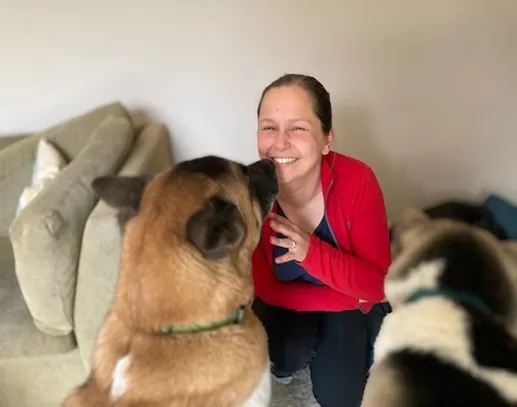 Paulina Tahran, CPDT-KA
Paulina Tahran, CPDT-KA, started as a volunteer at the Oregon Humane Society. After a few years of volunteering at the shelter, fostering dogs with special behavioral needs, working at daycares and as an on-call trainer, she became a staff trainer working with staff, volunteers and members of the public through group classes and private consultations.
Right now, Paulina and her husband, Nick, share their house with two rescue Akitas: klutzy Ronin and his best friend, even klutzier, Billy.
As a dog trainer, she views every dog as an opportunity to broaden her dog training skills and she particularly likes working with adolescent and overstimulated dogs.
Paulina is inspired by those trainers and scientists who approach dog behavior and training with insight, patience and also humor, such as Jean Donaldson, Chiraq Patel, Sindhoor Pangal and Simone Mueller . She is a force free trainer who follows LIMA (Least Intrusive Minimally Aversive) methodology.
Lea-Ann Yakabe, CPDT-KA
Lea-Ann Yakabe, CPDT-KA, came to dog training relatively late in life. Her life changed after adopting her very first dog from OHS in 2003. She was taken completely by surprise by the depth of her love for this dog and her fascination with learning how to better communicate with her. This started her on the path of dog training.
The part of dog training that Lea-Ann enjoys most is working with the dog-human team and helping them discover how fun and rewarding training together can be. She finds it so fulfilling to see how it enhances and strengthens their bond with each other.
Lea-Ann firmly believes that having dogs in her life makes her a much better human being than she would be without them.
Teresa Spittler, CPDT-KA
Teresa Spittler, CPDT-KA, is a certified professional dog trainer and a member of the Association of Professional Dog Trainers. As a fun-loving, active and hard-working individual, Teresa found dog training to be the perfect complement to her lifestyle. Prior to becoming a trainer, Teresa spent years working in the dog daycare and pet sitting industry, giving her plenty of hands-on experience and a strong foundation in dog body language.
Teresa thrives on a challenge and loves watching the dogs she works with transform into happy, healthy pets. In her free time, Teresa loves spending time outside in nature with her dogs. She enjoys running, hiking, nose work, and teaching her canine and feline companions new tricks.
Salem Campus Trainers
Nichole Myers-Youngquist, CPDT-KA
Nichole's career in dog training began in grade school when her dad wanted to train their Brittany Spaniel to hunt. Even back then she and her dad used positive training methods without realizing it. Nichole earned her CPDT-KA in 2018.
Dog training wasn't her first vocation. She obtained a Bachelor's Degree in Communications from Southern Oregon University and started an exciting career in the broadcast media industry. Working at radio stations and at a TV station, honed her customer service and public speaking skills.
Attending many obedience classes and participating in agility with her English Pointer made her realize how much she enjoyed dog training. She obtained her dog training certification graduating with honors.
Nichole has worn several hats at the OHS but getting the position a Public Training Instructor is a dream come true. She loves to share her passion for dogs and training with everyone!
Nichole lives in Salem, Oregon with her supportive husband and their dog family of three, which includes two Cocker Spaniel/Poodle mixes and an American Eskimo mix. Hiking, traveling, and binge-watching TV shows are their favorite activities.
Contact Us
Portland Behavior & Training
(503) 802-6729
Salem Behavior & Training
(503) 585-5900