Ever wanted to take a shelter dog out for a run or a hike? You can, as a member of the OHS Canine Running Team! Members of this team are all dedicated volunteers who complete training at OHS first, in order to keep our canine guests (and themselves) safe. OHS can always use more volunteers for this fun and rewarding program. Learn more about volunteering here, and hear from current running team member Cecil below.
The OHS Canine Running Team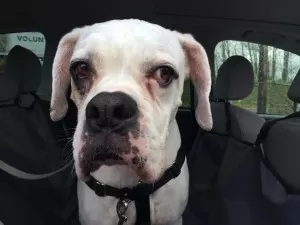 It's 8:30 on Wednesday morning, and I am sorting through my collection of no-pull harnesses, looking for an extra-large. Harness located, I hop in the car and head off to OHS. Waiting for me there is Moon, a 7-year-old, 70-pound boxer mix.
Moon is a member of the OHS Canine Running Team, which pairs volunteers like me with dogs like Moon for outdoor adventures. The running team provides additional exercise, socialization, and enrichment for high-energy dogs who have been at the shelter a while and who will benefit from some time in the great outdoors.
I joined the running team in the summer of 2015, as soon as I had accrued enough hours and training to qualify. Since then, I have run with coonhounds, bulldogs, bull terriers, Akitas, even the occasional beagle. My only rule for a partner: the dog must be tall enough that I won't accidentally trip over him or her.
Meet Moon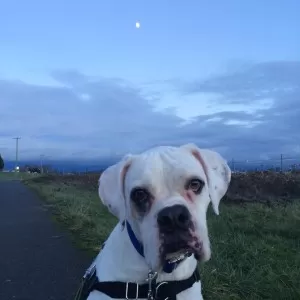 Moon certainly fulfills my criteria. When he sees me coming toward his kennel at the shelter, he breaks into a frenzy of excited tail wagging, body wiggling, and ear flopping; sort of a doggy warm-up, I suppose.
We run through some behaviors he's learned—sit, shake, stay—until he calms down enough for me to slip on his harness. We take a quick walk around the shelter's dog path to take care of any immediate needs, and then head for my car. Moon jumps in the back seat as soon as I open the door, and sits calmly while I attach his harness to the seat belt.
Today we are going out to the multi-use path that runs along the Columbia River. It's not raining, but it is pretty chilly, so I am hopeful that the path won't be too crowded. Moon is very friendly with people, but he can be picky about other dogs.
As I pull into the gravel parking lot at the trailhead, Moon begins to whine with excitement. He knows where we are, and he can't wait to get started. I attach my running leash to his harness and we are off to the races.
Of course, "races" is a pretty inaccurate description of running with Moon. It's more like a stately jog punctuated by prolonged bouts of sniffing. From the parking lot to the Sea Scout base on Marine Drive is just about 2.5 miles; we make the round trip in just under an hour.
See Moon Run
https://youtu.be/o0h4N7ovqws
The rain that had been holding off for most of our run starts to come down in buckets as we reach the car, but I have come prepared with plenty of towels in which to wrap Moon for the ride back to the shelter.
On our return, I grab a can of wet food and prepare a post-run snack for Moon. As I leave him with his snack, I tell him I will take him out again on Sunday. I am hopeful, however, that he will be adopted before then!
A Tired Dog is a Good Dog
Being on the running team has benefited Moon—and the other dogs I have run—in many ways. The most immediate benefit, of course, is that a good run makes for a calmer, less anxious dog when back in the kennel, so as to make a better impression on clients who pass by.
Our running sessions with the dogs also give us time to work on training and overcoming possible barriers to adoption, such as anxiety or reactivity toward other dogs. After each run with a dog, we make notes in their file, so adopters will know what to expect when they take their new furry family member out for their first run together.
Of course, I admit that I benefit from the experience as well; what's not to love about knowing that I am helping a wonderful dog become even more wonderful?
—Contributed by OHS volunteer Cecil Reniche-Smith
Learn More
Moon is currently available for adoption at OHS: see his profile and learn more about him here »
Learn about becoming an OHS volunteer and get started on the path to joining the Canine Running Team »