Sharon Harmon
President & CEO
Sharon Harmon has been a professional in the field of animal care and welfare for 42 years. She has helped lead Oregon Humane Society, the state's largest and oldest animal protection organization, for 34 years and has served as its President and CEO since 1998.
Sharon holds a Bachelor of Science in Zoology (Pre-Vet Med) from Oregon State University, a Certificate in Nonprofit Business and Management from Johns Hopkins University, and is a Certified Animal Welfare Administrator (CAWA).
She has served on the Banfield Shelter Advisory Committee and the Board of the Association for Animal Welfare Advancement, and she has chaired the National Federation of Humane Societies Board of Directors. She is currently on the Oregon State University College of Veterinary Medicine Advisory Council.
She is also the recipient of the American Veterinary Medical Association's Humane Award, the Public Relations Society of America's Community Involvement Award and Executive Leadership Award, and the Portland Business Journal's Woman of Influence Award.
Jessica Carl
Chief People & Culture Officer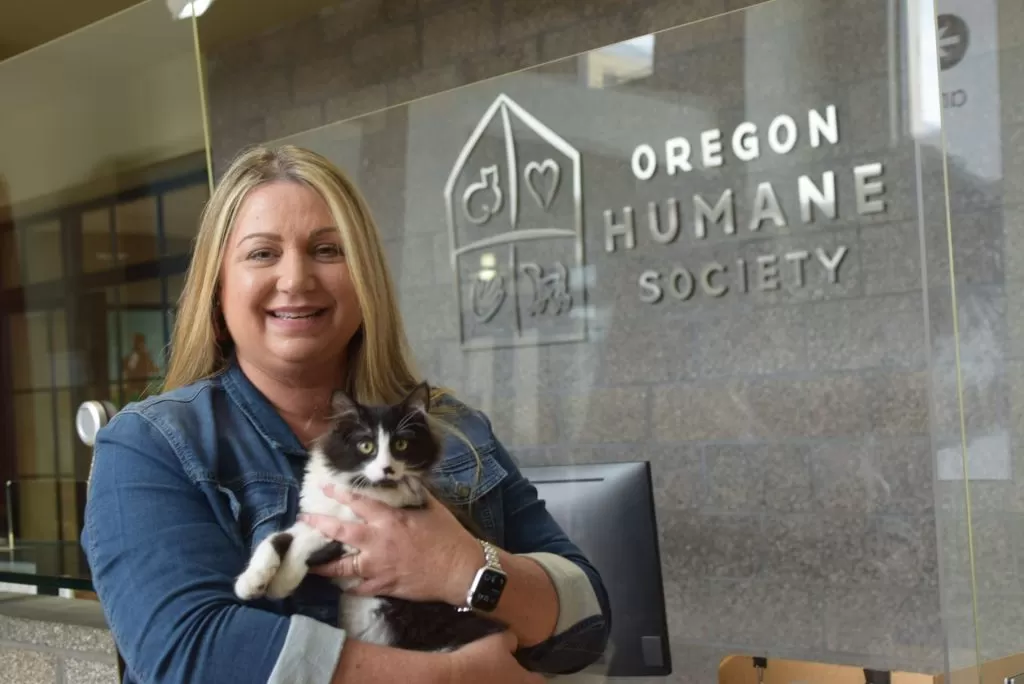 Jessica has considerable experience as an human resources executive within the non-profit sector.  These experiences include guiding organizations through crises, cultivating authentic and inclusive environments, and building cross functional partnerships to promote the well-being of the  organization's people.  In addition, Jessica believes in the power of using qualitative and quantitative data and people demographics to spur deep conversations and organizational examination, as well as strengthen the organization's ability to realize its objectives, including greater diversity, equity, and inclusion across all functions.
Prior to joining OHS, Jessica held key-leadership roles with Mercy Corps, an international, non-governmental organization.
Jessica enjoys spending time with her family, reading, farmer's markets and spoiling her two Dachshunds, Yogi & Boo-Boo and OHS Second-Chance kitty, Hank.
Stephen Kochis, DVM
Chief Medical Officer
Dr. Kochis has served for nearly 25 years in various positions in veterinary medicine, including Dove Lewis Emergency Animal Hospital and VCA Northwest Veterinary Specialists. His veterinary specialties include infectious diseases, immunology and emergency medicine.
As Chief Medical Officer at OHS, Dr. Kochis oversees a team of more than 100 veterinary professionals who serve pets and people at the Community Veterinary Hospital, and care for shelter pets in the medical centers at the Portland and Salem Campus.
Dr. Kochis received his Bachelor of Science in Animal Sciences and DVM from Cornell University. He served on the OHS Board of Directors for three years until he joined the staff. He has served as President of the Portland Veterinary Medical Association (PVMA) and currently serves on its Executive Board.
Chase Patterson
Vice President,
Shelter Operations
In his role at Oregon Humane Society, Chase oversees a staff of close to 150 animal welfare professionals in four departments at the Portland and Salem campuses – Admissions, Animal Care, Customer Care, and Training & Behavior. Collectively, these programs serve close to 25,000 pets each year. Operations focuses on lifesaving efforts locally and nationally, via collaboration, education and compassion for the animals and people in need.
Prior to OHS, Chase served in a senior management role with Wells Fargo Bank managing cross functional initiatives in a financial and sales environment.
Jennifer Baumann
Vice President,
Development
Following 20 years of working with donors in the areas of education and health care, Jennifer joined Oregon Humane Society in July, 2016 and is responsible for the annual fund, special projects and major gift fundraising.
She is a highly motivated and donor-centric development professional who thrives on sharing a vision, building relationships, and connecting donors with their philanthropic interests. Working closely with Sharon Harmon and the Campaign Cabinet, Jennifer has led OHS's New Road Ahead capital campaign.
Jennifer earned a BA in English Literature and a MPA with a concentration in non-profit management from Portland State University.
Gary Kish
Vice President,
Legacy Gifts
At OHS, Gary leads a team whose members are committed to ensuring financial stability and providing exceptional donor stewardship. Gary has implemented a broad and diverse array of programs including planned giving, direct mail, monthly giving, a retail store, vehicle donation program and other strategies that have created a very stable, private donation funding base. During his tenure at OHS the donor base has grown from 2,500 contributors to more than 88,000.
In response to the needs of pet owners, Gary founded the OHS Friends Forever care-of-surviving-pets program in 1995. The program has evolved as OHS championed the passage of two Oregon laws which facilitate including pets in estate plans. Gary has assisted hundreds of people in creating plans for their pets.
James Jacobus
Vice President,
Marketing & External Affairs
James has extensive experience in brand management, marketing, organization leadership, fundraising, and technology. Throughout his career he has developed mission-driven marketing programs designed to engage multiple, diverse communities. Prior to joining OHS, James held leadership positions at youth and education institutions in the Bay Area.
James is passionate about building inclusive teams and guiding mission-focused culture. A lifelong learner, he combines data-driven, outcome-based strategies with his people-centered philosophy to develop systems and processes that support the mission objectives and the people who work toward them. He holds a deep commitment to understanding present issues of diversity, equity, and inclusion and to championing DEI practices through his work.
In his role as Vice President of Marketing, Communications, & External Affairs, James oversees the Community Engagement team, which encompasses OHS' outreach and humane education programs, as well as communications, marketing, brand, corporate relations, and events. He also plays a key role in OHS' legislative strategy and advocacy efforts.